Swimming pool and Sauna
Navigation in the sea of information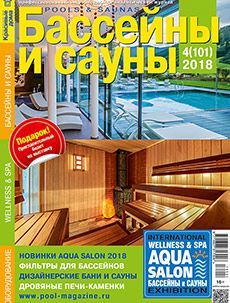 Swimming pool and Sauna is one of the most popular glossy magazines, the best source of information both for professionals of the industry and for final customers. This is a universal guide for choosing construction technologies and operation of water-entertainment complexes, public and private swimming pools, spa and wellness-centers, installation and maintenance of water supply systems, water treatment, ventilation, air conditioning, automation and others.
Each issue contains reviews of the market news and current events. Articles highlight the updated information in the swimming pools, water parks and spa industry. Overview, marketing and technical articles, marketing overview tables with the model range of the swimming pool equipment with technical characteristics, reports about professional exhibitions and conferences, excursus to the history. The most advanced foreign and domestic technologies, the newest equipment and their practical application are popularized in the magazine. Here you can find the detailed information about bath furnaces, their location, functional features, the most common pool types, stages of construction process, installation and maintenance, as well as infrared cabins, modern interior and sauna baths, including exotic one.
Special articles are devoted to therapeutic properties of baths, saunas, infrared cabins, sauna massage, tempering, and bath accessories. The basic design and technological differences between modern types of baths (Russian, Finnish, Turkish and Roman baths) are recorded in the magazine. Glossy cover pages, colorful illustrations and memorable design for many years are the trademark of the magazine.
The magazine is characterized by its clear and logical structure, congestion of information, quality of printing. The magazine is undoubtedly interest to high readership: architects, builders, specialists working in the field of technical equipment of water systems, swimming pools and saunas, water parks managers, spas, private customers.
Official website of Swimming pool and Sauna makes it possible to read online and look through pictures from the selected articles of already printed version of the magazine. We also offer our readers a full digital versions of magazines (since 2009) for reading online. For example, you can flip through the magazine «Swimming pool and Sauna».
The magazine Swimming pool and Sauna traditionally is the General Media sponsor of the International exhibition AQUA SALON: Wellness & SPA. Swimming pool and Sauna, that take place each spring in Moscow, Crocus Expo fairground and the professional contest AQUA Prestigue that is being held in the frame of the exhibition. World Expo Group is the Organizer of the exhibition.
The Swimming pool and Sauna magazine is registered by the RF Ministry for Press, Broadcasting and Mass Communications. Registration certificate ПИ №77-9178 dated May 31, 2001.
The magazine has been published since the year 2001.
Frequency: 6 times a year
Circulation: 25 000 copies
Format: 220 x 290 mm
Printing: full color
Printing house: OOO «Pervy Polygraphichesky Kombinat»
Distribution: Russia, CIS and far abroad
Tel: +7 495 730 55 92
E-mail: mnv@houses.ru
Nadia Morozova